Pinewood Derby
®
Links


All links provided by this site
are for reference only.

We assume no liability for the
links or their products.

If you have any questions regarding the use or need of added accessories to BestTrack
®
, please contact us at 641-585-2299 or by email at
sales@besttrack.com
Precaution
Do

NOT

use any device

directly attached to the track

that uses 110V power or higher.

Use only devices with 24V DC or less

that run off of a wall mounted or stand alone UL listed power supply to reduce the voltage.
Timers-
We have verified that the following timers are compatible with our track and we will pre-drill holes for sensors for free if requested when the track is ordered.

The Champ Timer
Designed especially for your
BestTrack

®

Pinewood Derby Track.




"SmartLine Finish Line Timer"
by eTekGadget.com

The SmartLine Pinewood and Space Derby® Finish Line Timer by www.eTekGadget.com supports up to 8 lanes with instant race results resolved to .00005 seconds that may be sent to a computer for storage, analysis and display by any of the popular race management software packages. The SmartLine Finish Line shows the placement result as it occurs on large 2¼ inch displays mounted above each lane with a generous 6 inch clearance.

NewBold Products
Building, Selling & Supporting Pinewood Derby Timers since 1996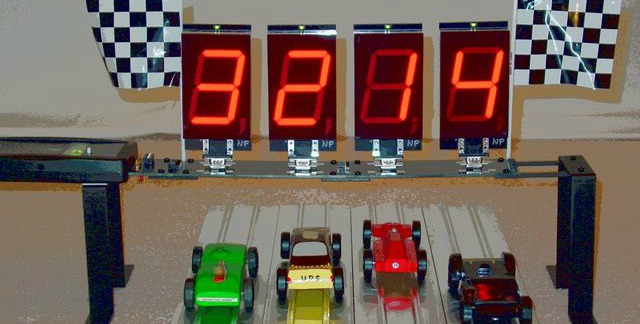 Pinewood derby timer catapults races to a new level! Does your pinewood derby® timer do this? NewBold Products' Digital timers for 1-8 lane tracks include both a computer and / or TV interface. Click here for more information.

A Racing Management Software and Hardware package for any Pinewood Derby tracking ALL Race Events™. The hardware consists of a custom fit track tower and photo sensors from 2 - 4 lanes. Times are measured within one thousandths of a second (1/1000). All Race Times are displayed on your computers monitor. The Interface Board™ plugs into any USB port (not a serial or parallel port).
Pinewood Race software

http://grandprix-software-central.com/

Provides race software for Pinewood Derby and Awana Grand Prix type races. Features GrandPrix Race Manager, which manages registering racers through to determining results. Supports several race scheduling methods and a variety of serial port electronics.


Racing Organizations/Boards/Information-

Test your car against the very best racers in the USA!

Pinewood Derby

®

Drag Racing

http://www.pddr.proboards.com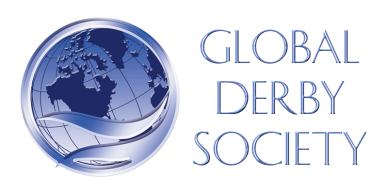 http://globalderbysociety.proboards.com


Experienced Pinewood Derby® Track
owners sought for new open league
The Woodcar Independent Racing League is a an organization aimed at making Pinewood Derby® style racing open to everyone...not just those in youth organizations. A standardized set of rules has been developed and the top priority at the moment is contacting track owners experienced in running race events. The event holder supplies the equipment, location, and staff, and is encouraged to charge an entry fee for expenses, fund raising or profit.
For more information visit: www.wirlracing.com
or write to: WIRL, P.O. Box 6694, Marietta, GA, 30065

Pinewood Derby

®

Accessories / Rockets

When performance matters!


ABC Pinewood Derby®
Lego Pinewood Derby Cars, Car Kits and more.
Your "How to" guide to the Pinewood Derby® Car. Everything you need to design, build, win and even manage a Pinewood Derby® race.


PINE-PRO COMPETITION COMPONENTS
manufactures a full line of high quality Pinewood Derby® Car kits and accessories to help make your car a winner
Pinewood Derby® car winning secrets, designs, free speed tips, speed axles, wheels, blocks, lubes and accessories to make your pine wood derby® car a winner.

321Rockets offer a large selection of Estes model rockets, beginner kits, and rocket engines. Buy in bulk to save money for your youth group or function. Let us be your one stop rocket shop.
http://www.321rockets.com/
Handmade Pinewood Derby® Car Display Cases
and other derby car services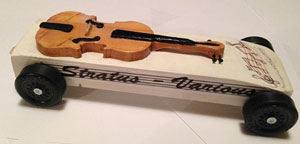 https://www.facebook.com/PinewoodCarCase

Tips & Secrets

The #1 resource on the internet for Pinewood Derby

®

speed secrets.
How to Build a Champion Pinewood Derby® Car
Everybody loves to build and race Pinewood Derby® Cars but, building a winning car is a different story! This video reveals all the secrets that can put your car in the winner's circle. You'll build a car right along with the instructor and follow his easy to follow step-by-step instructions. Plus, you'll learn all about: Body Design, Weight Placement, Wheel Alignment, Priming and Painting, Axles and Wheels, and Pre-race Tune-up. Your host, Mark Harris reveals the secrets that have made his family winners for generations!


Pinewood Derby
®
Car Building Tips
Pinewood Derby

®
car building information including a buyer's guide, tool tips, and information on how to recover from pinewood derby "boo-boos."


Pinewood Derby
®
Car Plans and Specialty Supplies
Offers winning Pinewood Derby
®
car plans, speed tips, a free Pinewood Derby
®
newsletter, and specialty supplies for new and experienced competitors.
Hodges Hobby House -

Pinewood Derby

®

Headquarters

AgentZ(TM) - Gregory A. LeClair Memorial Scouting Resources Site makes this site available as a resource for Scouters. We offer links to various resources, a Pinewood Derby® Program, links to other dens, units, packs, and troops as well as a limited number of free sites for those without web sites.

Information, resources and race management software for conducting Awana Grand Prix, Pinewood Derby® , Kub Kar Rally, and other similar races. Includes plans and links to build your own electronic finish line sensor system, start light "Christmas" tree system, scale information, and much more.
Your "How to" guide to the Pinewood Derby® Car. Everything you need to design, build, win and even manage a Pinewood Derby® race.