The Champ Timer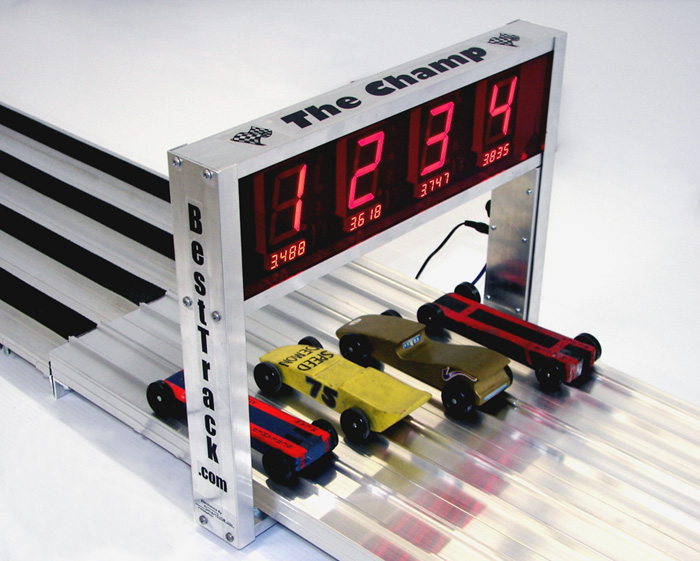 Front of timer shown above.

Designed specifically* for your
BestTrack® Pinewood Derby Track.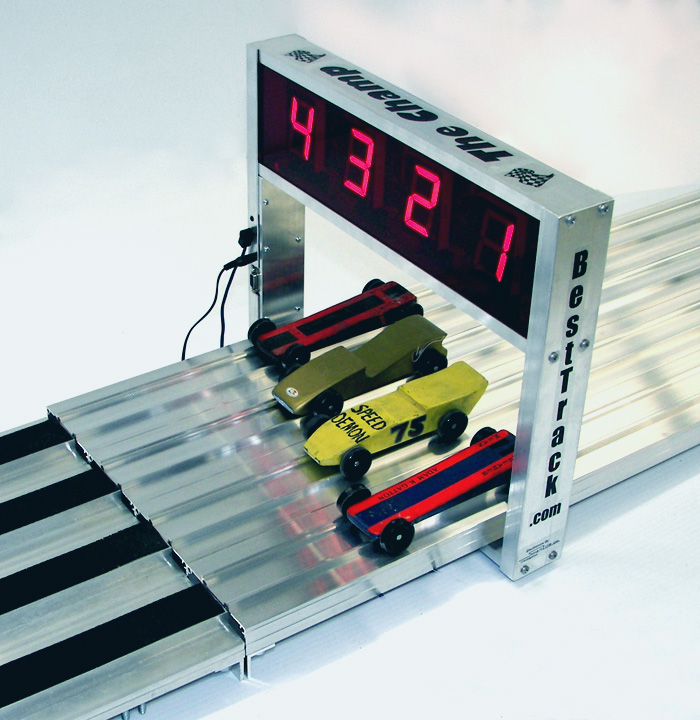 Back side of timer shown above.
Prices:
2 Lane $465.00
3 Lane $535.00
4 Lane $620.00
6 Lane $768.00
8 Lane $920.00
Features:
Standard Dual Display - See who wins the race from either end of the track!
Elapsed time & placement shown on front - placement shown on back side.
Elapsed time is started by an included start switch, mounted under the start gate, that is activated when the start gate drops.
Large (2 ¼ inch) displays are readable across a large room.
Use with or without a computer connection.
Serial computer interface is standard. (USB to serial adapter available $35.00)
Compatible with GrandPrix Race Manager™ software. (See Below)
50ft serial cable included.
50ft start switch cable included.
Works with all BestTrack® Pinewood Derby Tracks.
Durable extruded aluminum housing.
3 year warranty on timer unit.
* Note: We do not recommend using the Champ Timer on other tracks due to our mounting design. The Champ Timer is designed specifically for the BestTrack Pinewood Derby® Track.

Timer is 13-1/2" tall.

Clearance between track and timer is 6-3/4"

Replacement Power Supply Specs: 12Volt DC, Center Contact Positive, 500 milliamps minimum for 2,3 & 4 lane timers, 800 milliamps minimum for 6 & 8 lane timers.
Use only a low voltage 12V DC power supply.
The voltage required to power the Champ Timer is a low 12V DC.

USB adapter drivers - If you have misplaced your miniature driver CD that came with your USB adapter you can download them here:
We are currently selling a Cables to Go brand USB adapter #26886. You can download the drivers from the chipset manufacturer's web site:

Windows
http://www.prolific.com.tw/US/ShowProduct.aspx?p_id=225&pcid=41
macOS
http://www.prolific.com.tw/US/ShowProduct.aspx?p_id=229&pcid=41
An adapter that we have sold in the past is a Manhattan brand USB adapter #205146 that has an "M" on the cord. You can download the drivers from the chipset manufacturer's web site:
http://www.prolific.com.tw/US/ShowProduct.aspx?p_id=225&pcid=41
If you have a Radio Shack or other brand of USB adapter you will need to go to that manufacturer's web site to download the drivers.
---
GrandPrix Race Manager™ is a full-featured race management package for your Pinewood Derby®, Awana® Grand Prix, Space Derby®, Raingutter Regatta, and other similar races. GrandPrix Race Manager™ registers racers, creates race charts, scores the race, and provides reports. More information and free demo download can be found at:
http://grandprix-software-central.com/gprm/
Champ Timer Downloads:
Champ Timer Linesetup Program:
The following Champ Timer Line Set-Up program is typically only used if you want to test your timer-to-computer communication or change presets on the timer, i.e. reset time. This program is not used during your race. It is only a test program. Please use version 4 below.
Warning: Do not use Linesetup2 program while using a remote solenoid start gate by New Directions (The Judge) as it may cause the start gate to activate continuously which may damage the solenoid. Be sure to unplug the solenoid first. Please use version 4 below.
Note:
Some buyers of the Judge remote start gate have experienced solenoid failure and burnout if using the Judge SCI (Serial Control Interface) device with their Judge remote start gate, while using the prior version Linesetup2 program. We have updated our Line Set-up Program coding to be compatible with the Judge SCI device.
Please use this updated version of Linesetup.
Champ Timer Set Up Program Linesetup4

The Champ Timer Line Set-Up Program is designed for use only with our products.
If you purchase products from other manufacturers for use with our products, we recommend disconnecting their products if testing your Champ Timer using our line set-up program. You can leave your USB to serial adapter connected as this is not affected.


The Champ Timer has a 3 year warranty on the electronics and against manufacturing defects.
This warranty does not cover damages such as incidental or physical damage, damage due to misuse, modifications, or incompatible equipment/accessories being used.


We cannot guarantee that other manufacturers products will properly operate with our products.